Click on an exhibit below to explore it in a virtual version of the Clyfford Still Museum.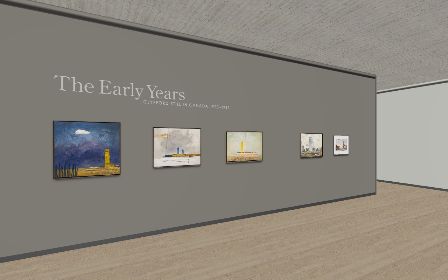 The Early Years: Clyfford Still in Canada, 1920–33
This exhibition is the third installment in an exhibition series featuring Still's earliest works and curated by guest curator, Patricia Failing. Situated in the Museum's first three galleries, The Early Years: Clyfford Still in Canada, 1920–33 illustrates the early development and legacy of Still's artistic practices in two distinctive geographical settings, Bow Island (1920–25) and Killam, Alberta (1925–33).

The remaining six galleries highlight masterworks from the Museum's collection arranged in a chronological narrative to illustrate Clyfford Still's extraordinary artistic journey. This story is told through the unique instance of being able to draw from virtually all of Still's body of work—the 3,200 objects now on deposit at this institution. The installation begins in the Museum's fourth gallery, with Still's Depression-era figure studies that transform into quasi-abstractions in the 1930s and early 1940s. These culminate with Still's groundbreaking wartime abstractions and monumental late paintings from the 1950s–70s.